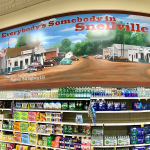 If you are thinking about relocating to the Atlanta metro area in Georgia, Snellville city should be on the list of your preferred destinations. Although the city has the charm and looks of a small rural town, it is home to some very modern neighborhoods that attract thousands of new residents every year. This combined with the friendly climate, state-of-the-art infrastructure, and high livability makes Snellville one of the most sought after real estate locations in the State. Since its inception, Snellville has been affiliated with several popular people in the nation. Below is a list of popular residents and former residents of this historic city:
Williams is a renowned basketball player and a former resident of Snellville. Williams who is currently signed to the Los Angeles Clippers was born in Tennessee but started playing basketball in Snellville where he went to high school. He has also played for the Philadelphia 76ers, Toronto Raptors, and Atlanta Hawks. He has won the NBA Sixth Man of the Year award three times between 2015 and 2019. He has recorded more points coming off the bench than any other player in the history of the game as of 2019.
Weir is one of the most accomplished competitive swimmers in the United States. Born in Iowa, she grew up and schooled in Snellville where she was part of the formidable Brookwood High School swimming team that won 4 consecutive state championships. She has won two silver medals and one bronze medal in the Olympics.
Robach is a renowned television presenter who currently works for ABC. Apart from being the ABC News presenter, she is also the co-author and cohost of the 20/20 magazine and Good Morning America. Robach was born in St. Joseph, MI and lived briefly in East Lansing and St. Louis before her family relocated to Snellville. She is an alumnus of Brookwood High School and the University of Georgia where she earned her degree in journalism. In 1995 she competed in the Miss Georgia beauty pageant. Robach previously worked as the host of NBC's Today and MSNBC. She currently lives in New York City.
Actress Melissa Ordway is another former resident of Snellville city. However, she was born in Atlanta and is popularly known for her role in "The Young and the Restless" where she is portrayed as Abby Newman. Her career is said to have started through theatre productions in Snellville where she went to high school.
Other popular residents and former residents of Snellville include Michael Joseph Kelly Jr., Joseph Gebbia Jr., Diana Nicole DeGarmo, and Benjamin Frederick Bledsoe.